The Spike Island Band plays for
barn dances and ceilidhs.
Based in and around Southampton & Winchester and across Hampshire, our repertoire consists mainly of lively traditional dance tunes, including reels, rants, polkas, jigs, hornpipes, and even the occasional waltz! Many of the tunes are English, but we also draw from the music of Scotland, Ireland, Wales, America, Scandinavia, and the Middle East.
We have played to audiences of every size from small private parties to youth festivals and big corporate events. We are as much at home in concert hall, a dance hall, a function room or a marquee.
What we do is ideal for a wide range of events including weddings, birthdays, anniversaries and celebrations of all kinds, and will be tailored to suit the event. The one thing that stays the same is the energy and lively atmosphere we put into the performance.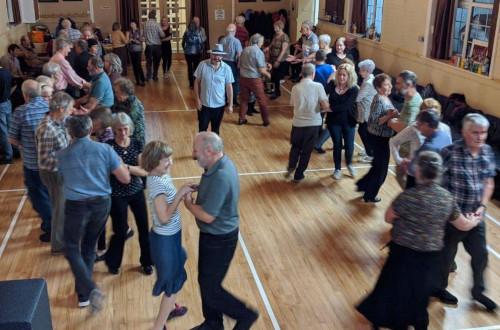 Since the Band's formation in 1982, we have built up our reputation across the south of England as a lively, interesting, and talented band.
Spike Island Band has a 4.7 star rating on Google

"We have previously been at a ceilidh that the Spike Island Band played at, and enjoyed them so much we asked them to perform for our wedding celebration. They were very accommodating as we booked before Covid, and were able to make the rearranged date in August 2021. They were fantastic! Everyone enjoyed their performance at our wedding, doing the many different barn dances with some great music and good instructions from the caller. The venue owner was so impressed he asked them to be one of his go-tos for barn dances! It added to such a special day for my wife and I to make it a very special occassion to share with friends and family."
Tom Emerson
"Thank you so much for an absolutely fabulous evening, so well organised from first point of contact to set up on the day of the event. We have had so many comments about how great the music, the caller and the dancing was. It was so wonderful to see almost everyone up enjoying themselves, and a really good choice of dances meant everyone could be involved. The Spike Island Band musicians were all of a really high standard, it was so lovely to listen to as well as dance to. We can't thank you all enough for a really fabulous evening and would highly recommend you to anyone looking for a barn dance / ceilidh. Spike Island Band is just great."
Marion Maxey
"I wanted to say a massive Thank You to you and the band for making our party such a success. Everyone had an amazing time and I have had lots of messages from friends and family who thoroughly enjoyed themselves. Please pass on our thanks to all the band. Thanks again for a brilliant night."
Jenny and Tom Irwin
"Such a fantastic evening! Spike Island Band and Ian you were absolutely amazing and made for such a fabulous evening, perfect music, perfect dances, perfect calling - thank you so much x"
Kirstie-Ann Turner
"Great people 1000 stars rating."
Ioel Burcus